Workshops & Hands-on Labs
At LinuxTag, free projects can organize open workshops and hands on sessions at own will for the community. There are three workshop rooms at hand. A LinuxTag wiki page tells what to do. The current status in the workshop schedule is shown below.
Data Privacy Laws with the DAV-IT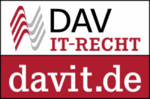 "Practical legal problems of order-data processing – no outsourcing without a contract"
Order-data processing is the data processing on behalf of someone else. The amendment of the Federal Data Protection Act 2009 has tightened the law of order-data processing considerably. The principal shall be responsible for inspection requirements. There are great demands made on the form of contract. The non-observance is penalised with a fine. The data privacy law requirements are not only essential from the perspective of the client. The contractor is also being increasingly faced with the demand of order-data processing according to the data privacy laws from customers. The problem areas of order-data processing range from simple outsourcing to Google analytics and cloud computing and include areas one might not immediately think about.
The workshop introduces the legal requirements to the order-data processing, identifies various problem areas and offers practical recommendations for the design of contracts.
The DAV IT invites (23.05.2012, 2 – 5 p.m., Room New York 2.3). Max. 25 participants. If interested, please contact Ms Silla Limbrecht (Limbrecht@messe-berlin.de). The principle "First come first serve" applies.