Academy-Day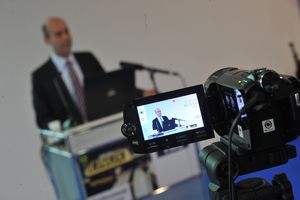 On Saturday, 26th May, IT and open source companies present themselves in the open source arena. Here we go. First of all interested visitors get informed about career management for computer scientists. Afterwards open source companies introduce their tasks and thematic priorities. Lots of lectures and slots allow seeing into desiderated jobs and giving worthwhile hints for the own access.

In cooperation with the German Telekom and a TechTalk by Jochen Hiller, Developer Garden as well as company presentations directly apply to IT junior employees.
Moreover you can glance at our jobwall or you convince the exhibiting companies speculative on the spot.

Partner of the Academy-Day 2012 is Deutsche Informatik Academy (DIA)
A first overview of themes and topice you get here!