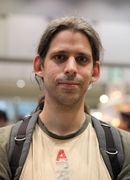 Talk "You can make the kernel better", Saturday, 14.05.2011, Room London, 11 - 11.30 a.m: tmux is a program that permits multiple text terminal processes to be created and managed from a single text terminal. This talk will cover the history of tmux, its main features and some of the differences from similar programs such as GNU screen. To Wolfram's Talk
Backstage with Wolfram
Wolfram, how far did you get yet on your quest "1000 projects, where I want to have contributed", that you mention in your speaker bio?
Well, I am still in the two-digit-range, so not very far. The 'problem' is that projects à la Kernel and WINE are too interesting and consume a lot of time :) Still, once in a while there is a bugfix for another project; the progress may not as fast as I expected, yet I hope there's still enough time.
What is your experience with explaining non-tech people, that your job is to work on the Linux kernel?
Depends. A few people block as soon as they hear the word 'computer'. Changing topic seems the best option then. Otherwise I try to point out the aspect of commonly creating free knowledge. A lot of people do understand this and see value in it. This often starts a good discussion.
Apart from Linux, kernels and the whole Tekkiverse - which part of life is of special interest for you, something you find really fascinating?
Ecology - I want to live an enjoyable life without spoiling it for other people (or later generations)
Dining - good food makes life worthwhile :)
Japan - land/culture/language because it is so different
You work as a kernel developer at Pengutronix, a software company for embedded Linux in the industrial sector. What does a typical "Wolfram workingday" look like?
- say "hello" to everyone in the office
- read/glimpse through mails (including lists like lkml/alkml... up to 2000 per day)
- discuss recent developments with colleagues
- setup hardware, start writing I2C-driver for a new System On Chip (SoC)
- get call: $CUSTOMER has extremly important problem just before finalizing a product
- save the world
- have lunch (every Friday is Pizza-Day!)
- continue with I2C-driver
- inbetween write mails, do patch review
- sometimes help colleagues (or they help me), estimate projects
- post I2C-driver for review on mailing-list
- go home
- (read mails again in the evening; in case something has happened ;))
Why did you choose to present a talk at LinuxTag 2011?
At LinuxTag, there are a lot of private users of the Linux kernel, not only commercial ones. Their participation to the kernel is very important to me.
Wolfram's Data Sheet
Place of living: Hildesheim
Favourite programming language(s): The one which solves the problem effectively
Favourite FOSS operating system flavour(s): Debian
A day is perfect for me, if ...
... I don't have any worries.
What really annoys me, is ...
... sadly a lot; see the news.
FOSS and Linux in 3 sentences:
Depends to whom I talk to. Everyone has a special field. It is usually possible to connect generic FOSS ideas to this special field which makes a generic understanding easier.
---
Category: Speaker Features, Homepage