Michael, IT Division Manager from Krefeld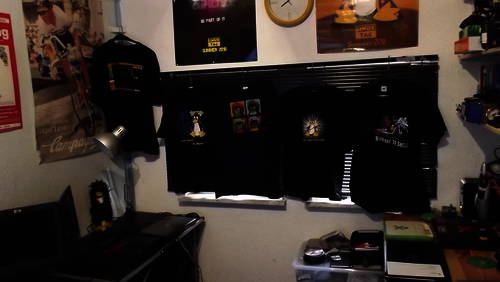 When Michael contacted LinuxTag, he wrote an email concerning the ticket price. He has been visiting LinuxTag every year since Karlsruhe, he wrote, and his main interest is the exhibition, not the conference. So he asked for a ticket version without the conference. Unfortunately, this is a request we cannot grant this year.
But - wait a minute. This person is visiting the LinuxTag nonstop since 2002? We thought: How awesome! When replying, we urged Michael to apply for the Scholarship. He did. And he won! Michael became one of four LinuxTag scholarship holders 2014 given a three day Full Conference Ticket. However, in this case, the Scholarship holder receives a One Day Ticket, because he will visit the LinuxTag only for one day - as always.
So, who is Michael? The IT division manager is 43 years old and turned, as he puts it, his hobby into a job to follow his passion. He uses Linux since 1994. "Those days, Caldera still existed. Then I proceeded to DLD, Suse, Slackware, Debian, Mandrake, Redhat, OpenSolaris, OpenBSD, Free BSD, NetBSD, Ubuntu and Turbolinux", he tips off his fingers. His trips to Karlsruhe for LinuxTag between 2002 and 2005 have been special for him, as he describes: "Everytime it's only one day for me. This day is stuffed with visits at all the booths, meeting people from Gnome, X.org, CentOS for example. Where else can I meet them, if not here."
He feels that LinuxTag, while held in Karlsruhe, had something today's LinuxTag misses: a feeling of being family, feeling private. "You could talk directly with Red Hat, Sun Microsystems, S.u.s.e and so on. I remember a discussion about Evolution (https://wiki.gnome.org/Apps/Evolution), which I couldn't integrate into a Windows Active Directory at that time. The people I talked to listened patiently and we worked together on a solution." That's the reason why Michael prefers meeting people in the exhibition before listening to talks, he explains. One time in Karlsruhe, he met Jon Maddog Hall ("what a great experience!"). When LinuxTag was in Wiesbaden 2006, Michael was at the Ubuntu booth, when a person with two laptop bags asked him where to find the conference halls. "Thirty seconds after the person left, I felt chills coming down my back. This was Mark Shuttleworth I'd just spoken to - father of Ubuntu! Those days, he was at LinuxTag for a keynote about the new Kubuntu. On stage, he slowly opened his jacket, and the Kubuntu logo appeared. The audience went crazy. You don't forget these moments if you live Linux and Open Source like I do."
Nowadays, he says, LinuxTag has become more big, more professional. But still, he continues, there seems to be a core group of people who are just fascinated by Open Source and its special culture. "There was a talk going on", he tells another anecdote, "and a visitor went to the front for taking a picture. A quick and silent 'click', and it was done. Ten seconds after, a seemingly professional photographer did the same. This person brought not one, but three cameras to the front. And he cut loose and clicked away, not one time, but thirty times, quite noticeable... spontaneous applause rose from the audience. The speaker noticed this somehow funny situation, too. He went in front of the speaker's desk - striking some poses. I couldn't help myself and laughed so hard, everyone did. It's only here where you find these special sorts of situations."
One last story frame: For Michael, the LinuxTag motto posters and t-shirt are a must every year, as he reports. he collects them. But he doesn't wear the t-shirts - he puts them on the wall (see pictures).
Michael, you of all shall visit LinuxTag once more, even the "expensive" one. Welcome!