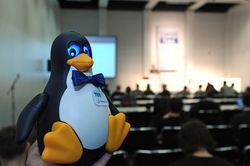 Both LinuxTag and its partner events Open-IT Summit (22 and 23 May) and OpenStack Day (24 May) have a wide-ranging programme in store, comprising more than 200 individual events. Around 50 companies and 70 independent projects are also exhibiting their latest products and services in Halls 7.1 and 6.3.
Nils Magnus, Director LinuxTag e.V. and head of Programme Planning: "For many companies and private users Open Source forms an integral part of their planning. These days, it is impossible to imagine the mobile internet, social media and cloud infrastructures without Linux and Open Source. LinuxTag offers a guide and brings the wide range of products and services of projects and providers together in one place. The resultant dialogue is the trademark of this event."
Papers range from web development to embedded Linux
Key topics at the conference include mobile and high-performance web development, embedded Linux for industrial applications, enterprise storage as continuous integration and configuration management as well as Open Source in the cloud.
The keynote speeches will again be among the highlights of this year's LinuxTag. On Wednesday, Thomas Gleixner (linutronix) will lecture on "Embedded and HPC" and on Friday, Matthew Garrett (Nebula) will deliver a keynote speech on "Making UEFI Boot work." On Saturday, Benjamin Mako Hill (MIT) will talk about "Antifeatures." To date, over 2,600 experts from around the world have contributed towards the success of LinuxTag.
For those who are less keen on listening and instead are more practically oriented the 20 workshops are the right place to be. The topics include "Developing open Educational Content" and "Interactive Programming." The focus will be on the Django web framework, "Starting out with Emacs", "A different type of job interview" and "Open source game development."
Special events, including the Hacking Contest and Kernel Kwestioning with numerous Linux developers in attendance as well as Key Signing parties will round off the wide-ranging and extensive programme of events.
In addition to the stands of Deutsche Telekom, Microsoft, STRATO, Thomas Krenn and the Bundesamt für Sicherheit in der Informationstechnik (BSI), numerous independent projects featuring interesting products and concepts await visitors to the exhibition. For example, members of the non-profit organisation Rechenkraft.net are involved in supporting education, research and science through the use of networked computers. "Distributed computing" lets members of the public participate in climate research, astronomy and pharmaceutical projects.
Training and advanced training will also feature strongly when Europe's leading event for all aspects of Linux and Open Source software takes place for the nineteenth time. Both the outstanding programme of papers and the exhibition have plenty to offer anyone seeking to expand their knowledge. In addition to specialist papers, professional advanced training is also being provided in the form of tutorials on specific subjects and through certification. For example, for the first time in Berlin the LPI, the world's leading Linux certification organisation, is offering beta exams for revised Linux certification.
Open-IT Summit and OpenStack Day celebrate their debuts
The key theme of LinuxTag is "Where .com meets .org." This dialogue between companies and non-commercially oriented members of the IT scene is a trademark of the event and the first Open-IT Summit will help to strengthen its business image. On 22 and 23 May visitors to Hall 6.3 can look forward to a concentrated programme featuring 25 company presentations, four keynote speeches and more than 40 papers offering practical information. Other events include guided tours of the exhibition, workshops, networking sessions and a joint report on LinuxTag highlights. Together, the Open Source Business Alliance (OSBA) and Messe Berlin are responsible for developing the concept of the Open-IT Summit.
The OpenStack DACH Day is yet another partner event of LinuxTag 2013. The first European conference on this subject will take place on the Berlin Exhibition Grounds on 24 May. The event has been organised in cooperation with the OpenStack Foundation. Based in the USA, it acts as a global forum for the eponymous, scalable cloud management platform.
A number of leading names are sponsors of the nineteenth LinuxTag. One of the Platinum sponsors is Kaspersky Lab, and Community sponsors include Billiger.de, Fedora, Getdigital, Immobilienscout, Kernel Concepts, Nokia, Tarent and Univention.
LinuxNacht with Open Music
On the second evening of LinuxTag 2013 Citadel Spandau will play host to LinuxNacht, LinuxTag's established social Event. Year after year, LinuxNacht provides a social setting for discussion, networking and entertainment aside from the hustle and bustle of the conference and exhibition. The main stage event will be a performance by Shearer, an Open Music rock band.
About LinuxTag
LinuxTag is Europe's leading trade fair and conference on Linux and open source software. The four-day event has been taking place since 1996, and annually on the Berlin Exhibition Grounds since 2007. It offers the latest information for professional users, decision-makers, developers, newcomers and the community. In addition to the programme of papers and a separate Business & Public Authorities Conference, LinuxTag traditionally hosts an exhibition featuring projects and companies associated with the Open Source sector. Verein LinuxTag e.V. is the non-commercial organiser of the event, which is staged jointly with Messe Berlin GmbH.
Full details of the LinuxTag programme can be found at https://www.linuxtag.org/2013/en/program/programm-pdf.html
---
Category: press, Homepage