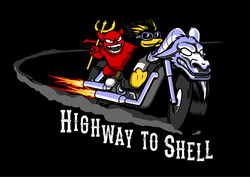 The pic was made for the LinuxTag by the american graphic artist Helena Mosher, inspired by ideas from kernel concepts and the LinuxTag association. Petra Kirchner, Head of the shop division of the kernel developer company kernel concepts, has been doing the open source merchandise booth at LinuxTag's entrance hall for years. For all these years, she sponsored the LinuxTag with crew t-shirts and a special LinuxTag t-shirt year after year, as well.
The motif "Highway to Shell" will be the official LinuxTag t-shirt, all with logo and date. But more: kernel concepts, the artist and LinuxTag e.V. decided to share the motif as CC-BY-NC-ND.
Meaning: Everyone can share and use this awesome piece of work! (Besides: We showed the implementation of the BSD Beastie to his creator Marshall Kirk McKusick, as he wishes on his website, and he approved of it.) Use it as wallpaper, put it in own works or even print it on your own stuff. The only thing we ask to respect, that you won't sell products with this motif, which would be unfair towards Kernel Concepts.
You can download the pic as PNG and SVG at the lab sites of kernel concepts. The official LinuxTag t-shirt is available for 15 Euro at different sizes and formats (for women as well) starting Wednesday, 22nd May, at the entrance hall of LinuxTag 2013.
Happy sharing!
---
Category: Homepage