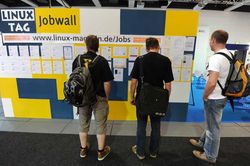 Exhibition and papers featuring currently available training
"Beta" exams for revised Linux certification
LinuxTag in Berlin recognised as educational leave
Exhibition and conference from 22 to 25 May in Berlin
Berlin, 29. April 2013: In addition to specialist papers, professional advanced training is also being provided in the form of tutorials on specific subjects and through certification. For example, for the first time in Berlin the world's leading Linux certification organisation LPI is offering "Beta" exams for revised Linux certification. The fact that specialised knowledge can also be imparted in an entertaining way is demonstrated again this year by aspects such as the Hacking Contest and the Distro Battle. With its case studies and reports the integrated Business and Administration Congress (BuBK) is intended in particular for Linux and Open Source users in these two fields.
Training and advanced training also play a major role in the partner events of LinuxTag 2013 - the Open-IT Summit (22 and 23 May), Open Stack Day (24 May) and RootCamp (24 and 25 May). Attendance at LinuxTag is recognised by the Land Berlin as educational leave.
LPI exams at reduced rates
Exams for the LPI certification program are again being offered by LPI e.V. The first LPI representative in Germany, Austria and Switzerland, and branch office of the LPI Central Europe, is marking its tenth anniversary during LinuxTag 2013. Jim Lacey, President and CEO of LPI: "We congratulate LPI e.V. on its 10th anniversary within the LPI organisation. Over the years they have demonstrated their thorough commitment to promoting Linux professionals and the use of Linux and Open Source software. LPI e.V. also has an exemplary history of involvement with our exam development process, which makes them the ideal hosts for the first set of "beta" exams for our revised LPIC-2 and LPIC-3 exams."
"Beta" exams are an integral part of the exam development (or revision) process, where tests are administered to exam candidates to determine if exam questions are in fact measuring skills and competencies as outlined in the objectives. The exams can be taken at reduced rates at LinuxTag 2013. For more details go to http://www.linuxtag.org/2013/de/program/zertifizierung.html
LPI will also be playing an active part in LinuxTag 2013 with its own information stand in Hall 7.1c, Stand 153. Here each day LPI staff will be showing how Raspberry Pi can be used to expand computers and control them using scripts.
LinuxTag in Berlin recognised as educational leave
The unrestricted program of papers at LinuxTag means that employers in Berlin can take advantage of this event as educational leave. Questions and answers about the rules in other German states gave been summarised by LinuxTag e.V. on a special page: http://www.linuxtag.org/2013/de/besucher/fortbildung-karriere.html
Fascinating educational advancement projects
The subject of training also features in the exhibition at LinuxTag. The "One Laptop Per Child" project, for example, assists schools in the least developed countries of the so-called Third World. A member of the project team will be at LinuxTag to report on his work in the African country of Lesotho.
The non-profit association Rechenkraft.net, whose members support the use of networked computers to assist with training, research and science, is also exhibiting at LinuxTag 2013. Distributed computing can be used, for example, to assist with research work in climate research, astronomy and the search for medications.
About LinuxTag
LinuxTag is Europe's leading trade fair and conference on Linux and open source software. The four-day event has been taking place since 1996, and annually on the Berlin Exhibition Grounds since 2007. It offers the latest information for professional users, decision-makers, developers, beginners and the community. In addition to the programme of papers and a separate Business & Public Authorities Conference, LinuxTag traditionally hosts an exhibition featuring projects and companies associated with the Open Source sector. Verein LinuxTag e.V. is the non-commercial organiser of the event, which is staged jointly with Messe Berlin GmbH. More details are available at www.linuxtag.org.
---
Category: Homepage, press