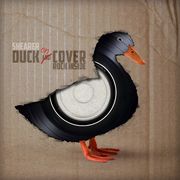 Andi, what do you think about open source and Linux?
I am computer scientist and working as a developer, so I definitely relate to Linux. I am no home user, though, because there are no Linux versions of Cubase and Magix Video Maker. But wait - when I think about it: My NAS is run by Linux! All the way, as a member of an "open source band" I like the idea behind it. So, we are really happy to perform at LinuxNacht. LinuxNacht + Shearer sounds to me like a perfect date.
Your performance at LinuxNacht will be special. In what way?
Well, actually all our performances are special. Where else would you get a full-fledged CD thrown around your head? (Editors note: Video about what's that supposed to mean at Youtube, in german) But yeah, this time it's gonna be even "specialier". Since our guitarist won't be there due to vacation, we decided to pull out our acoustic guitars again. So, instead of loud, evil, distorted rock music there will be loud, evil, undistorted rock music. (Laughs) No, just kidding, we've never been evil. For this acoustical session we re-arranged some songs to accomodate those hollow guitars built of thin wood. Who knows our song "Monument", for example, will be surprised, how you can turn a punk rock hit into a rock'n'roll'n'blues earworm.
You guys rock since 2006 via Creative Commons and publish your work both as CD with cost and as free download. Why did you decide to do that?
We never had a problem with people pirating our work. Instead, we had a problem with the gatekeepers of the music industry. Big lables never saw enough gainings in us, and didn't invest. So we had to look for ourselves how we would reach people. We couldn't afford big advertising business, so we chose the grassroots way and gave our music to all for free. In the web, that's advertisement free of charge, which would make us known more widely. And people out there started to note us. There is nothing the music industry can do against this! The press responded quite positive, as well. Free licensing of rock music is still highly unusual in Germany. That's good for us, because we have that unique feature.
Your website says: "No DRM, no copyprotection, no bullshit." What does your label think about that?
Our old label joint the experiment, but wasn't really happy. The last to albums were published by afmusic. This is is a brilliant label, specialised in bands like us. Usually they focus on gothic/wave. But except from us, there are likely more bands favouring free licenses. We are happy to have found such a like-minded partner.
For the unexperienced and other curious: Where do you meet for rehearsel, and what does it look like?
More or less, we all live between Prenzlauer Berg and Wedding, but rehearsels take place in Lichtenberg at the Berliner Rockhaus. When and how often varies a lot. It depends on how our daily jobs are going, on how many perfomances are planned, on new songs in the queue at a time, and wether one of us went up and away with a groupie. One of those reasons is faked, by the way. Rehearsel look pretty much the same everytime: Turn everything on, make a noise until it's fine, turn everything off and go home. Sometimes we figure out a performance, sometimes we work on new songs, and sometimes we just jam.
Can you say something about your new album "Duck on Cover"?
Most of the songs on that particular album didn't emerge from the rehearsel room, because our drummer dropped out for a long time due to illness. Consider very well if you want to ride one of those little mopeds in Thailand, I tell you. So instead of working on songs together, Olli recorded basic ideas with nonsense texts at home and threw it into Dropbox. When I liked a song, I wrote lyrics. This time, the lyrics are a little darker than usual. That's how it goes: When everything's fine, no need to talk about it. So then, we iterated music and texts until we liked them (Scrum and Kanban are sending their love). We had our own speed, since our recordings were undependent of money and rehearsel room appointments. This was really relaxing.
How do you produce your videos? Do you spend money on it?
There's need to spend money, for sure. The Magix Music Maker costs something like 100 Euro, and the two digital cameras some few hundreds. But since many people privately own digital cameras nonetheless, we wouldn't count them in. With this equipment I could record the trailers on our website. Three or four hours each for cutting. We are a DIY band. Our equipment mirrors that. The promo videos of the new album, for them we assigned people from Fiverr.com. It is amazing, what people do for five Dollars. As of late we use after effects as well. Until now, that was our biggest investment in that area. We think it's worth it, because through the videos we get in personal contact with fans.
How was Shearer formed?
Olli and me joined the band one year after it startet. Some years later, the band started to fall apart. Then we met Ronny and Matze at a concert. They were with Strikes at that time, a german punk band, who had started to break as well. But those two didn't want to give up their instruments. So they joined us. And this is perfectly working until today.
The story of Shearer:
The bands consists since 2005 of Olli Shearer (Vocals, Guitar), Andi Shearer (Backings, Bass), Ronny Shearer (Backings, Guitar) und Matze Shearer (Drums). It started five years earlier, but no one of the original group is there anymore. Changing the name was not an option: There were still t-shirts left. ;-)
The first album "Makin-A-Munson" was published in 2006 under Creative Commons. This was Andi's move: He had written his diploma thesis about "Filesharing is inevitable". It was easy to convince his collegues of these new perspectives and options, because all big music labels just had told them some variants of "You're wrong with us". All three albums are available by conventional sales as well.
The Shearers call themselves "normal people" with daily jobs, that found each other through their passion for music. They believe they make the world a little better: Not only with "What", but with "How" they do it, as well.
---
Category: Homepage, press