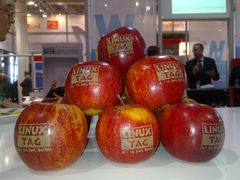 Ingo Wichmann, newly elected Chairman of LinuxTag e.V. who came up with the idea of a reboot: "Our efforts to 'reboot' the event have borne fruit. There has been a rethink in a number of areas, for example in the way the papers are put together." The programme committee, now with additional members, contacted numerous speakers directly, thereby broadening the focus. "All the same a reboot does not mean installing from scratch", Wichmann reiterates: "We are keeping our approach of maintaining absolute quality without beating about the bush."
The open programme of papers at LinuxTag is presenting itself as Europe's leading conference on Linux and Open Source and has gained in terms of numbers and quality. The selection process has become better organised, helping to define key topics by offering comprehensive papers, as well as to highlight them from different angles.
Clouds from all angles
Cloud computing offers one example of this. Nils Magnus, Program Chair of the open programme of papers, is aware of critical visitors who have concerns: "The papers chosen do not leave terms unclear, instead they examine a topic from different angles." The track examines a much debated trend in terms of technical and economic feasibility and also concerns itself with the important issue of data protection. Discussion will also focus on the overall compatibility of cloud computing with Open Source.
Leading speakers from Germany and abroad
Linux pioneer and Angel investor Larry Augustin is among the leading speakers who will be arriving from Germany and abroad. "In his keynote speech, the CEO of SugarCRM will highlight the crucial role of Open Source as regards this paradigm." Robert Douglass from Acquia will show how cloud computing can be used to scale the Drupal content management system. Experts from Canonical, Red Hat and Novell will present their respective approaches for administrating and managing private clouds.
Leading speakers at LinuxTag 2010 will include Prof. Dr. Dirk Riehle, Germany's first professor of OSS at the University of Erlangen. Formerly with SAP, he will be speaking about the significance of a future with Open Source software. Other contributions will highlight the inner workings of the community, will debate business models and report on how companies and developers are running successful projects.
Business models using Linux
In his paper Matt Asay, COO of Ubuntu distributor Canonical will campaign for putting users first if an IT strategy is to be successful. The Italian analyst Carlo Daffara has examined the sustainability of free software for EU Taskforces. He compares myths with genuine business models. Erwin Tenhumberg, Open Source Program Manager at SAP, explains the mixed strategies of the software giant and highlights the challenges and opportunities. In other papers, representatives of HP, the Free Software Foundation Europe and analysts will give their opinions on Open Source.
The open programme of papers also includes long-established events such as the Security track and an entire day devoted to kernel development, which last year was attended by more than a dozen high-ranking kernel designers. Papers on VPNs, their administration, parallelisation of cryptography, certificates and trusted computing will demonstrate that Open Source is capable of offering not just individual security but of providing it for all kinds of layers and systems.
There will again be several tracks with information for system administrators, among them Monitoring, ITIL and Configuration Management. Overall the open programme of papers will deal with around 20 topics, including Open Source and free software in a professional environment, cloud computing, mobile & embedded, security and monitoring.
Enterprise development with Java and Co.
OpenJDK 7 is due for release in the summer. Dalibor Topic, one of its major architects, will be speaking at LinuxTag 2010. The programme committee was able to invite developer Peter Rossbach of the Java application server Tomcat to hold a talk at LinuxTag. He will also be offering a one-day tutorial on the subject. Developers of professional company software are bound to also be interested in highlights such as the Google App Engine for Java, scalability of Java applications using Java EE 6, as well as development methods.
Exhibitors have registered early and in numbers
Never before have exhibitors registered so early and in such high numbers. They include IBM, Google, C.a.p.e. IT, Jaspersoft, Talend, Tarent as well as the LPI and BSI. Once again France, leaders in OSS in Europe, will be represented with a combined stand and at least eight exhibitors. France is an example to other nations, both in terms of the number of companies running open source applications and in terms of policies providing support.
Business & Public Authorities Conference
The focus of the Business & Public Authorities Conference is on migration, case studies and reports as well as on business processes using Linux. Thus the conference targets decision-makers and strategists. Over the course of two parallel series of papers system integrators and manufacturers will report on their experiences with free software.
Call for projects well under way
Only a short time after the call for projects was announced entries arrived from twenty independent projects. The organisation team are looking for non-commercial development projects and initiatives closely associated with Linux and Open Source which are backed by a lively community. Open source projects have until 24 March to apply for the main selection round by submitting a convincing presentation to the Virtual Conference Center (vCC) of LinuxTag at https://www.linuxtag.org/vcc/. A second round for "latecomers" will follow. The details and terms of the call for projects can be found in the community space on the LinuxTag website at wiki.linuxtag.org/w/fp:Call_for_Projects.
Following the positive reactions last year the free projects will once again be incorporating theme islands. These will include Linux Gaming and Linux for education. As a service to visitors a daily "Projects fast Forward" will take place. Projects have a chance to introduce themselves to the public in a time slot limited to a maximum of three minutes. In the past the world's largest exhibition of such projects opened up opportunities for fascinating future developments, among them Obico, a Linux-based computer for bicycles.
About LinuxTag
LinuxTag is Europe's leading event for Linux and free software. The four-day event has been taking place annually on the Berlin Exhibition Grounds since 2007. It offers the very latest information for professional users, decision-makers, developers, beginners and the community. In addition to the programme of papers and a separate Business & Public Authorities Conference, LinuxTag traditionally includes an exhibition featuring projects and companies associated with the Open Source sector. A total of 10,780 visitors from around the world attended LinuxTag 2009. Verein LinuxTag e.V. is the non-commercial organiser of the event, which is staged jointly with Messe Berlin GmbH. More details can be found at www.linuxtag.org.
---
Category: Homepage, press