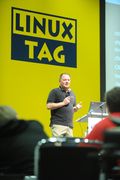 Berlin, 16 December 2011 – Papers from over 2,500 experts from all over the world have so far helped to ensure the success of LinuxTag. With business papers, technical lectures and leading international keynote speakers, the programme is designed to meet the many and varied interests of those attending LinuxTag. And now the time has come round again: the Call for Papers for LinuxTag 2012 was launched on 15 December.
The Free Programme of Papers is available to anyone attending LinuxTag and, with over 250 contributors, it is one of the world's largest. The main themes of the 18th LinuxTag are "Android Mods und Devs", "Enterprise Storage from Flash to SSD" and "Monitoring and Configuration Management". Any suggestions for Linux, Open Source and Free Software topics may be submitted to the Virtual Conference Center (vCC) https://vcc.linuxtag.org/ between now and 24 January 2012. For queries to the Programme Committee: vp@linuxtag.org.
The Business and Administration Congress (BuBK) forms part of the programme of papers. Its case studies and progress reports are intended in particular for Linux and Open Source users in business and administration. Open Data and Security & the Law are among its main themes. Open Data is a worldwide movement aimed at making public administrative data freely accessible to all.
Education is one subject that will be playing a much more important role at LinuxTag 2012, and appropriate suggestions were submitted by the participants in the 2nd OpenSource ManagerMorning, an event that was held at the end of November in Berlin at the invitation of Open Source Business Alliance e.V. and LinuxTag. Experts from IT and education took this opportunity to investigate the question "What can be leaned from Open Source. Open minds for improved education in Berlin".
Free programme of papers: Contributions are sought that deal with practical implementation and new ideas
This invitation is extended to those working on interesting Open Source projects, as well as anyone using free software to create order and reliability in the server room or computing centre. The reports should refer to successful businesses where Open Source has an important part to play, and to initiatives promoting the interests of data protection and civil rights.
Nowadays it is hard to find any computing centres that do not run Linux. Free Software can be found in almost all data centres and in most of them it fulfils a central role on many servers. However, they have to be configured and monitored. In situations where there is rapid deployment of individual computers and the required programs are up and running, there may be dozens or even hundreds of systems relying on automated tools that can deploy, set up (software distribution) and configure new machines. Once this has been done the monitoring system will report any unusual circumstances such as high load factors or full hard drives.
Linux can provide a whole range of tools to deal with these important operating functions, and many of them are regarded as complying with the industry standard and best practice. The LinuxTag Programme Committee is looking for speakers who can present solutions that combine the individual programs in an intelligent way and can discuss which tool is best suited for dealing with a particular task.
How useful, when used by companies, are software packages containing configurations? How efficient is individual scripting compared with preconfigured standards? In monitoring, what should those who are responsible for systems look out for to ensure that they do not only obtain data but can also determine the correct decisions that should be taken? To what extent are regulating systems available and ready to go into production, which can detect an overload situation and transfer systems to other, more effective machines?
Papers on Android that can think "around corners"
Android is not only the smartphone operating system with the largest market share but also accounts for a significant share of all the Linux kernels now in operation. The simplicity with which apps can be installed, and the fact that it is available on many modern devices form the basis for this success. Unlike programs on a PC the apps only have limited access to the actual possibilities due to the fact that some manufacturers are reluctant to release the necessary information or are delaying bringing out new versions. As a consequence independent Android versions are emerging, some of which offer impressive capabilities such as extended battery life or improved graphics.
The LinuxTag Programme Committee is particularly interested in papers intended to improve the performance of Android, that implement unusual functions, or can think "around corners". What prospects does Ice Cream Sandwich offer as a platform, and what direction should subsequent development follow? Does Android also run on other devices and CPUs apart from tablets and smartphones? How can cellphone and kernel developers work together?
What sort of file system for what data storage system?
Modern computers contain hardly any mechanical components. At the present time the commonest exceptions can be found in the hard drives used for mass storage. New solid state disk (SSD) technology combines non-mechanical devices with rapid access times but they are still expensive.
There are many parameters and architectures to be considered when used by companies: What sort of file system is best for what data storage system? How can this be harmonized with RAID controllers? What role do bus systems play? What architecture supports administrators who are setting up high-availability storage sub-systems? Can caches also be created using commercially available flash drives? How can developer improve storage paths in the Linux kernel?
The Programme Committee is seeking contributions to LinuxTag that will demonstrate practical implementation methods or lead to the evolution of new ideas. The main target group for this track comprises those responsible for storage solutions that impose particular demands on throughput, availability or data volumes. However, there is also room for delimitations and considerations that are relevant to such consumer devices as desktops, notebooks, tablets or smartphones.
About LinuxTag
LinuxTag is Europe's leading specialist trade fair and conference of all aspects of open source Linux and free software. This four-day event has been taking place since 1996, and since 2007 it has been held annually on the Berlin Exhibition Grounds. It offers the very latest information for professional users, decision-makers, developers, newcomers and the community. In addition to the programme of papers and a separate congress for business and public sector authorities, LinuxTag traditionally includes an exhibition featuring projects and companies associated with the open source sector. Verein LinuxTag e.V. is the non-commercial organizer of the event, which it stages jointly with Messe Berlin GmbH. More information is available at http://www.linuxtag.org/.
---
Category: press