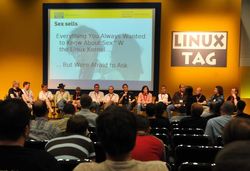 Berlin, 24 February 2010 – The open programme of papers at LinuxTag 2010 will represent Europe's leading conference on Linux and Open Source, in keeping with the high standards established over the years. This is the conclusion reached by the programme committee of the 16th LinuxTag following a closed meeting on the open programme of papers. "Making the extra effort to directly address experts, developers and decision-makers was worth our while", is how Nils Magnus, Programme Chair of the open programme of papers, sums up events so far. "We were able to secure 25 per cent more papers for LinuxTag 2010 than last year." The selection process has become better organised, helping to define key topics by offering comprehensive papers, as well as to highlight them from different angles.
Cloud computing offers one example of this. Magnus is aware of critical visitors who have concerns. "The papers chosen do not leave terms unclear, instead they examine a topic from different angles." The track in question examines technical aspects and economic feasibility and also concerns itself with the important issue of data protection. Discussion will also focus on the overall compatibility of cloud computing with Open Source.

Leading speakers from Germany and abroad
Michael Kleinhenz, Vice-Chair of LinuxTag e.V., is delighted to be able to welcome distinguished speakers who are experts in their fields. "In his keynote, Linux pioneer and Angel investor Larry Augustin will highlight the crucial role of Open Source as regards this new paradigm." Robert Douglass from Acquia will show how cloud computing can be used to scale the Drupal content management system. Experts from Canonical, Red Hat and Novell will present their respective administrative approaches for private cloud distribution.
Leading speakers at LinuxTag 2010 will include Prof. Dr. Dirk Riehle, Germany's first professor of OSS at the University of Erlangen. Formerly with SAP, he will be speaking about the significance of a future with Open Source software. Other contributions will highlight the inner workings of the Open-Source movement, will debate business models and report on how companies and developers are running successful projects.
The open programme of papers also includes long-established events such as the Security track and an entire day devoted to kernel development, which last year was attended by more than a dozen high-ranking kernel designers.
There will again be several tracks with information for system administrators, among them Monitoring, ITIL and Configuration Management. Overall the open programme of papers will deal with around 20 topics, including Open Source and free software in a professional environment, cloud computing, mobile & embedded, security and monitoring.
Call for projects announced
With the open programme of papers gradually taking shape, on 18 February a call for projects was announced. The organisation team are looking for non-commercial development projects and initiatives closely associated with Linux and Open Source which are backed by a lively community. In the past the world's largest exhibition of such projects opened up opportunities for fascinating future developments, among them Obico, a Linux-based computer for bicycles.
Open source projects have until 24 March to apply for the main selection round by submitting a convincing presentation to the Virtual Conference Center (vCC) of LinuxTag at https://www.linuxtag.org/vcc/. The details and terms of the call for projects can be found in the community space on the LinuxTag website at wiki.linuxtag.org/w/fp:Call_for_Projects.
Important dates for the media
The programme of LinuxTag 2010 will be presented at the Berlin Open Source Day at CeBIT on Wednesday, 3 March 2010. A meeting with the press will be held on the combined stand of Berlin-Brandenburg in Hall 2 (Stand B50), beginning at 1 p.m. To apply, e-mail wagner@messe-berlin.de.
About LinuxTag
LinuxTag is Europe's leading event for Linux and free software. The four-day event has been taking place annually on the Berlin Exhibition Grounds since 2007. It offers the very latest information for professional users, decision-makers, developers, beginners and the community. In addition to the programme of papers and a separate Business & Public Authorities Conference, LinuxTag traditionally includes an exhibition featuring projects and companies associated with the Open Source sector. A total of 10,780 visitors from around the world attended LinuxTag 2009. Verein LinuxTag e.V. is the non-commercial organiser of the event, which is staged jointly with Messe Berlin GmbH. More details can be found at www.linuxtag.org.
---
Category: press, Homepage