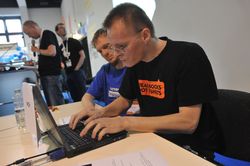 Berlin, 27. April 2012 – This year the LinuxTag-Hacking-Contest is going to take place for the eleventh time on this year's LinuxTag in Berlin. On the 25. May the organisers will nominate the king of the hackers together with the sponsoring partner Sophos. However, the road there is not easy: In line with a qualification round in early May, interested parties must first prove themselves and can save a place in the final by finding solutions to various tasks. On the stage of the Open Source Arena of the LinuxTag however, it is about installing a permanent access to a laptop with a free operating system – which the other team, of course, seeks to prevent.
"We want to strengthen the awareness for IT-security and put much emphasis on the technical challenge", said Markus Hennig, CTO Sophos Network Security. Kester Habermann, team leader of the Hacking-Contest of the LinuxTag association, also wants sophisticated infotainment: "Even if Open-Source operating systems are considered the most secure systems, a system is only as good as the administrator who operates and maintains it. With our competition, we want to give incentives to all IT security cracks, to deal with the technical possibilities of today in a fun way but still on a high level."
For further information about the competition please visiti the official website of the Hacking contest (1). The first solution of the qualification round (2) has already been activated; solutions will be accepted until the 4. May.
(1) http://hacking.linuxtag.org/
(2) http://hacking.linuxtag.org/start.html
About the LinuxTag
The LinuxTag is Europe's leading exhibition and conference on topics relating to Linux and Open Source. The four-day event has been taking place since 1996, annually on the Berlin fair grounds since 2007. It offers updates for professional users, decision makers, developers, beginners and the community. The LinuxTag association is the ideal host for the event and is doing so alongside with the Messe Berlin VLC. For more information pelase visit http://www.linuxtag.org/2012/en.html.
---
Category: Homepage, press